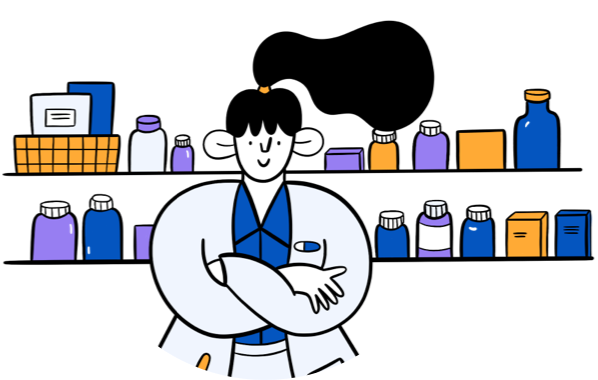 Medicine: Telfast (Fexofenadine)
Telfast (branded fexofenadine) is an antihistamine medicine which is a popular treatment for allergies, such as: hay fever, eczema, hives and allergic conjunctivitis. It can also be used to treat allergic reactions to insect bites and stings and some food allergies. 
Telfast Antihistamine
Common Questions About Telfast
Buy Telfast Online
Telfast Antihistamine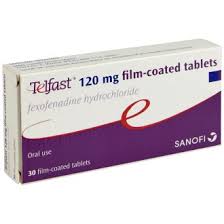 Telfast antihistamine, although classed as a non-drowsy antihistamine, a small minority of people still find that it still makes them sleepy. It is typically used to treat seasonal allergic rhinitis.
If you do experience sleepiness with Telfast antihistamine, it's best to try a different non-drowsy antihistamine and if that still doesn't help, speak with your doctor.
Telfast antihistamine contains two active ingredients, one called "fexofenadine" (the antihistamine) and "pseudoephedrine" (a decongestant).
Telfast Hayfever Pills
Telfast hayfever pills are a very effective way of treating the symptoms of hayfever, and can be used in combination with other medications. Using Telfast hayfever pills will only treat the symptoms of hay fever, they will not treat the underlying cause, which is an allergy.
Other alternatives to Telfast hayfever pills can be purchased over the counter.
Some simple measures can be taken to help reduce and minimise the symptoms of hay fever such as keeping windows closed or having a shower to remove any pollen grains trapped on the skin or hair.
Telfast Allergy
Telfast allergy can provide relief for many symptoms associated with hay fever or seasonal allergic rhinitis.
Symptoms of hay fever (allergic rhinitis) that Telfast allergy can help relieve
Sneezing
Itchy, watery, red eyes
Itchy, blocked, runny nose
Raised, itchy rash (urticarial)
Telfast allergy tablets can also be used to treat conditions such as –
Conjunctivitis
Eczema
Reactions to insect bites and stings
Food allergies
Telfast 180 mg
Telfast 180 mg is one of two options available when purchasing Telfast tablets from My Pharmacy UK. We offer Telfast 180 mg, the highest and Telfast 120 mg, the lowest.
Either Telfast 180 mg or Telfast 120 mg will be deciding by your doctor depending on your symptoms and how well you respond to treatment.
Telfast 120 mg
Telfast 120 mg is the lowest strength we offer at My Pharmacy. Lower doses are typically prescribed when symptoms aren't severe enough for a higher strength.
You can buy Telfast UK online, including the two different strengths, Telfast 180 mg and Telfast 120 mg from My Pharmacy with next day delivery.
Telfast Active Ingredient
The Telfast active ingredient is called Fexofenadine. Each tablet contains, depending on the strength, either 120mg of Fexofenadine or 180mg of Fexofenadine.
Fexofenadine is largely know as a non-drowsy antihistamine, making it less likely to make you feel sleepy than other antihistamines. It's typically used to treat allergies and symptoms associated with allergies, such as hay fever and urticaria.
As well as being the Telfast active ingredient, it is also used by other branded/trade names, including Allegra and FX 24 among many others.
First patented in 1979 and eventually came into full medical use in 1996, it is now manufactured and used in generic form since 2011.
For further information about the Telfast active ingredient, Fexofenadine, click here.
Common Questions About Telfast
How to Take Telfast
For adults and children aged 12 years and over
The recommended dose is one tablet (120 mg) or (180 mg) daily.
Take your tablet with water before a meal.
This medicine starts to relieve your symptoms within 1 hour and lasts for 24 hours.
Can You Buy Telfast Over The Counter?
We are often asked 'Can you buy Telfast over the counter?'
No, Telfast tablets cannot be purchased over the counter, it's only available via a prescription in the UK.
Any further queries regarding 'Can you buy Telfast over the counter?' please do not hesitate to contact us via email.
Difference Between Telfast And Zyrtec
The difference between Telfast and Zyrtec is the main active ingredient contained within the two. Telfast has an active ingredient called Fexofenadine hydrochloride, whilst Zyrtec has something called Cetirizine hydrochloride.
Studies have found that cetirizine is more effective than fexofenadine at relieving symptoms of allergic rhinitis and urticarial, whilst also appearing to have a longer duration.
Another difference between Telfast tablets and Zyrtec is that Zyrtec has no reported food interactions, whereas fexofenadine cannot be taken with grapefruit juice.
Lastly, one more difference between Telfast and Zyrtec is the amount of time they take to get to work. Fexofenadine works within two hours, whilst Zyrtec works within one hour.
Telfast During Pregnancy
Telfast during pregnancy should not be used if you are pregnancy or intend to become pregnant. Before Telfast is even considered, a similar antihistamine called loratadine is used first. This is because loratadine has more information saying it's safe to use during pregnancy.
Talk to your doctor about the possible benefits and harms of taking Telfast during pregnancy.
For more information about taking telfast during pregnancy and how it can affect you and your baby, this leaflet on the Best use of Medicines in Pregnancy should help.
Telfast for Itchy Skin
Telfast for itchy skin can help relieve symptoms from urticaria, otherwise known as hives. Telfast being an antihistamine means that it blocks a chemical produced by the immune system called histamine.
When histamine is released by the immune system it is usually because your skin has come into contact with an allergen. The histamine will then cause inflammation and cause a rash called hives. They are usually identified as red, raised patches that often itch.
Telfast for itchy skin has been proven to help relieve symptoms of hay fever and other allergies. You can buy Telfast for itchy skin via our free consultation form above.
Telfast for Asthma
During research and tests Telfast for asthma (fexofenadine) had very little effect on seasonal allergic asthma, however research is still ongoing to determine the effects of higher doses of fexofenadine.
Although telfast for asthma hasn't been proven to be effective as of yet, other antihistamines such as cetirizine have shown that taking doses once or twice daily, consistently improved asthma symptoms when compared to placebos.
Telfast for asthma may be used when seasonal allergies are making asthma symptoms worse. Telfast tablets are not generally prescribed to treat asthma symptoms.
Telfast for Skin Allergy
Telfast for skin allergy can help provide relief to allergic skin reactions such as itching, swelling and rashes. Long term allergic skin reactions for instance, chronic idiopathic urticaria, require a strength of 180mg for adults and children.
If you are currently experiencing reoccurring skin reactions, your doctor may prescribe Telfast for skin allergy. If you are not seeing any improvements when taking Telfast for skin allergy, your doctor may prescribe other antihistamine telfast alternatives.
Telfast Side Effects Depression
Telfast side effects depression isn't a direct side effect from taking Telfast.
Neither allergies nor Telfast cause depression, but they can exacerbate and latch onto already existing depression symptoms.
Taking Telfast to treat allergies can sometimes cause side effects such as irritability and sleep disturbances to increase, and in turn cause depression to increase in severity.
For more information about possible side effects and how Telfast side effects depression, speak with your doctor before deciding on a treatment for your allergies. Any Telfast side effects depression should be immediately reported to your doctor.
Buy Telfast Online
My Pharmacy is the Best Place to Buy Telfast UK Online in 2019. To order Telfast 400 mg Online in the UK you are required to have a prescription, which you can acquire with our free online consultation service.
Through My Pharmacy you can Buy Telfast 400 mg Tablets UK Next Day Delivery. Each treatment is sent out in secure and discreet packaging ensuring that you get your medicine on time and intact.
Telfast Alternatives
You can buy telfast uk online as well as other Telfast alternatives via My Pharmacy. Here are some Telfast alternatives we currently offer –