How to deal with IBS at work
Irritable bowel syndrome (IBS) can sometimes pose challenges within the workplace. IBS can take a huge toll on your mental and physical health, particularly when someone who suffers from IBS symptoms feels too embarrassed to ask for necessary accommodations within the workplace. IBS symptoms can be made worse due to stress and/or anxiety, so it's important that the correct arrangements are prepared at your workplace in order to avoid time off work for IBS.
What is IBS?
What is IBS? IBS or irritable bowel syndrome is a condition which affects the digestive system. The exact cause of IBS is unknown, but it's believed to be linked to the rate at which food or drink travels through the gut, or oversensitive nerves within the gut. IBS symptoms include stomach cramps, constipation, diarrhoea and bloating. In most cases, there are days in which symptoms are better, and moments in which the symptoms are worse. These are called flare-ups. Often, flare-ups can be caused by certain food or drinks that have been consumed. Some drinks and foods to avoid with IBS include alcohol, spicy food or caffeine. However, this can vary from person to person. IBS symptoms can also be brought on due to anxiety or stress. IBS pain can be very uncomfortable, but IBS can be treated with diet changes or medication. There are no cures for the condition, but there are different forms of IBS treatment available.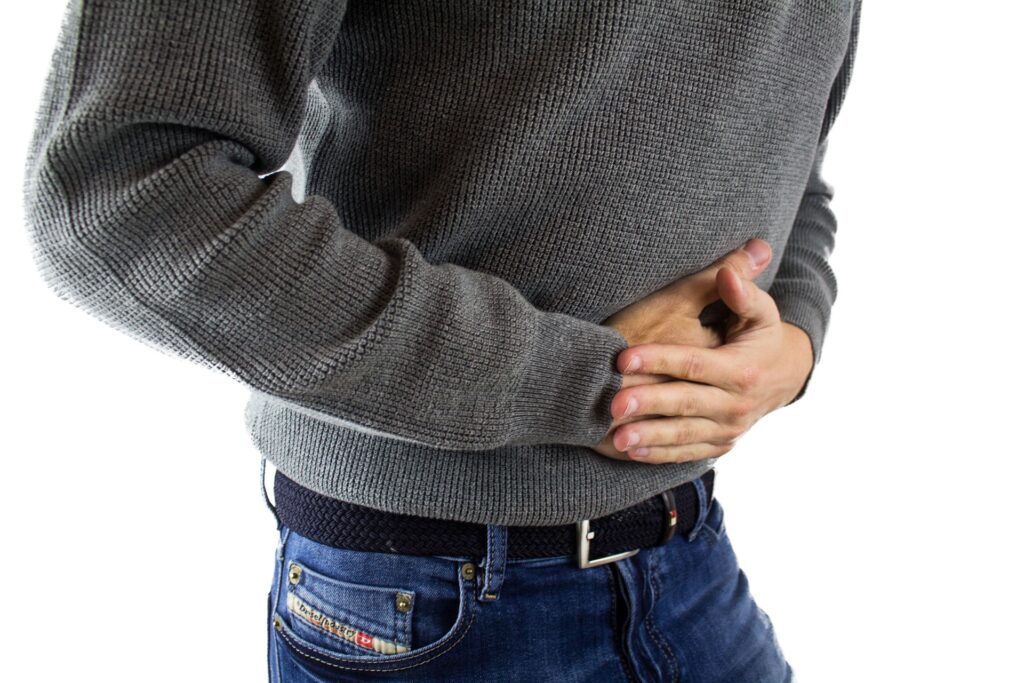 IBS Treatment
There is no single IBS diet which works for everyone who suffers with the condition. If you suffer from irritable bowel syndrome, it's a good idea to keep a diary of everything you eat, along with any IBS symptoms you may develop. This is useful in finding out which foods may trigger you to experience IBS pain or discomfort. Cooking fresh, homemade meals can help with IBS treatment as it ensures you have some control over your diet. Foods to avoid with IBS include fatty foods which can trigger flare-ups so it's a good idea to avoid takeaways or processed food and eat healthily. Low FODMAP foods are the best things to eat for an IBS diet. It's important to not skip meals or eat too quickly as this may bring on IBS pain.
Different IBS medications are available for different symptoms:
Dealing with IBS at Work
Time off work for IBS isn't an ideal scenario. If you suffer from irritable bowel syndrome, it's a good idea to keep a supply of IBS medication with you. Store essentials, like spare underwear and wipes, in a desk in your drawer at work, in a bag upon your persons or in your car if possible. This will offer you some peace of mind and ease any anxiety you have about having a flare-up at work and not being prepared for it. Aim to drink at least 8 cups of water or any other non-caffeinated drinks per day. This will help you to avoid dehydration or constipation. Get up early enough before work to allow some time to eat breakfast properly and be able to go to the toilet. Ensure you take a proper lunch break, take some time to sit and digest your meal rather than eating on the go. It's a great idea to prepare your own meals if you bring food to work. This ensures you know exactly what's in the meal, as well as the portion size too.
Whilst there are steps you can take as an employee, it's also a great idea to speak to your employer about changes they could make in the office to reduce any stress or embarrassment you may feel about experiencing IBS symptoms. This will help you, as an employee, to work to your full capacity. It will also reduce the likelihood of having time off work for IBS. Suggestions for alteration in the workplace could be something like the following: allowing employees to take regular breaks, providing easier access to toilets, offering flexible working arrangements and/or guaranteeing effective management of workload to ensure that employees are not overstressed or overworked.
If you believe you may be suffering from IBS or are worried about symptoms, contact your local GP.