5 Medicines Every Parent Must Have for their Child
Whether you're a new parent and this is your first child or you have a little army of 5 running around the house, one thing that is true for every parent is that keeping a well-stocked medicine cabinet is key. From knee scraps, to coughs kids are notorious for accidents and illnesses children are experts in feeling unwell. In this article we will address the top 10 items that all parents need in their medicine cabinet.
Why do children get ill more than adults?
Before we get into it, it's helpful to understand why children get ill more often than adults. As children are still developing, their immune system is not as strong as that of a fully grown adult. On top of this children are exploring the world in every way, especially toddlers. They're crawling on the floor, putting toys in their mouths and in general don't quite have the same hygiene skills as adults!
With that in mind; what things should you keep in your medicine cabinet to keep your little ones safe?
Painkillers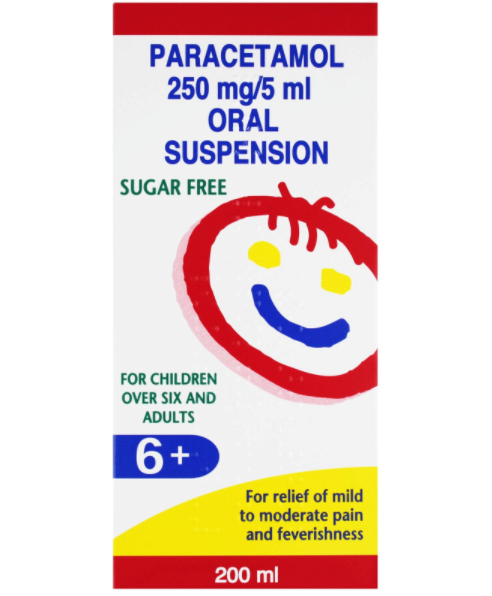 Paracetamol can be given to children from the ages of 3 months or over to relive pain. This is great for headaches or other kinds of pains that are causing your child stress. It is important you give your child the right dose of paracetamol – so be to use child safe paracetamol.
Ibuprofen is also fine, as long as it is child safe. For all of these medicines be sure to read the instructions on the packet carefully to be sure that it is safe for your child.
Most child safe painkillers will be available in liquid form, this is because for small children adult tablets are a choking hazard.
Teething Gel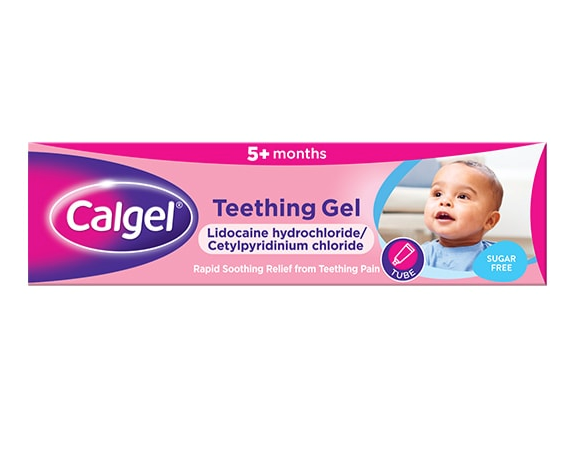 As children are growing, so too are their teeth, and with this comes teething pains. Teething pains can keep you up all night tending to your child. Teething gel is an absolute essential item to have in any medicine cabinet.
Gels, such as Calgel, work by applying a mild anaesthetic to the afflicting areas, these work quickly to numb the pain. When you're woken up in the night from teething pain cries, the last thing you want is to find out you've not stocked up on teething gel. So be sure to keep a ready stock of Teething gel.
Chicken Pox Relief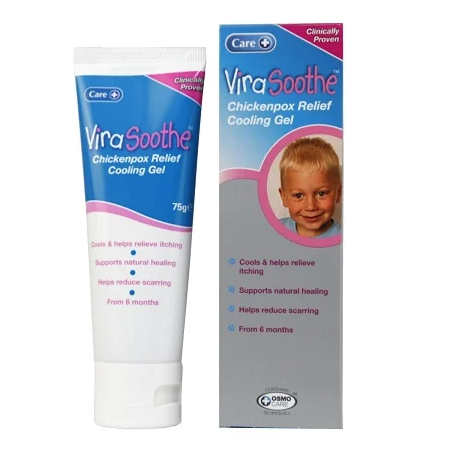 As we know children's immune systems haven't yet had the opportunity to build immunity to many illnesses. For many more serious diseases, children are often vaccinated against. However, over the years Chicken Pox has primarily been considered an illness best to have when you're young so you can build immunity against it.
Chicken Pox often spreads around schools as an outbreak occurs, these outbreaks can be sudden and unexpected. Keeping a tube of Chickenpox Relief such as ViraSoothe is an effective way of treating the itch that comes with Chicken Pox. This can prevent scaring as a result of scratching.
Vapour Rub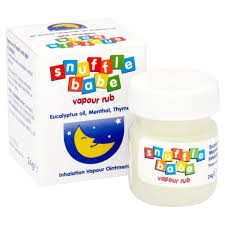 Blocked noses' can be a sign of cold or flu, or an allergy (such as hay fever). This can make can make feeding and sleeping especially difficult for children and babies, as they struggle with built up mucus in the nasal passage.
Vapour Rubs, such as Snufflebabe, are a mild decongestant which, targeted especially at little ones, which contain a blend of eucalyptus oil, menthol and thyme oil.
Apply a small amount of vapour ointment to your baby's chest or throat, or put a little on a handkerchief or tissue and position near them as they sleep. They will inhale the vapour as they sleep and feel nasal congestion relief, leaving them to feed and sleep much better.
Nits/ Headlice treatment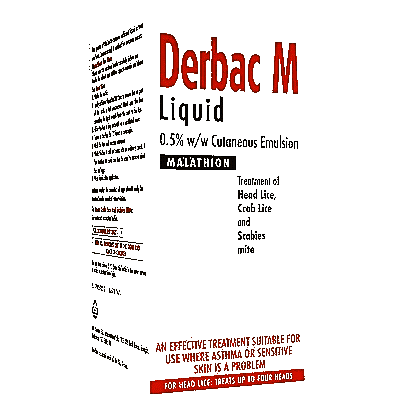 Nothing is worse than when your child comes home after a day at school and they're scratching their head. Particularly when you find out just before you're about to take them somewhere. If you're not prepared for headlice then this can be pretty detrimental to your plans for the week. However, a well-stocked medicine cabinet should include headlice treatment so that you can react quicker to the issue.
A combination of a headlice comb and headlice treatment such as; Derbac-M Liquid, Lyclear Cream – these can be very effective in quickly treating headlice. Most of these treatments require applying the treatment to their hair and working it into the scalp.
And that is our list of our top 5 medicines every parent must have for their child. Raising children is both challenging and rewarding at the same time and we hope from this list you'll be better prepared for treating your little ones when they're unwell. Be sure to check out the MyPharmacy website for our full range of treatments and other blogs to help your lead a healthier and happier life.