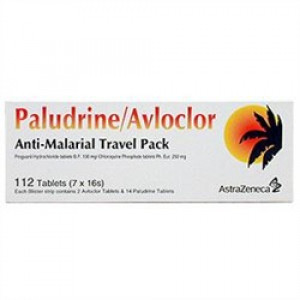 Paludrine/Avloclor Antimalarial Tablets
£4.89
To help prevent malaria.
Active Ingredient: Proguanil Hydrochloride
Buy Online With Confidence From UK Registered Pharmacy
Paludrine/Avloclor Antimalarial Travel Pack To help prevent malaria.
When to start taking your medicine
• Start taking this medicine one week (one strip, 16 tablets) before you enter the malaria area.
• You must continue to take it during your stay (one strip per week).
• You must keep taking this medicine for 4 weeks (four strips) after leaving the malaria area.
Therefore you will need a minimum of six strips (six weeks treatment) for a one week holiday and additional strip per additional weeks holiday.