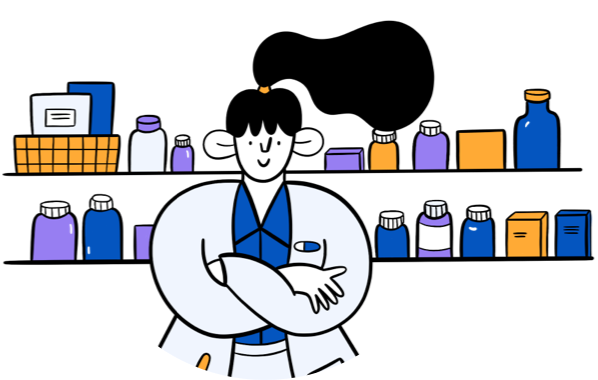 Medicine: Nitrofurantoin
Nitrofurantoin 100mg pills are an antibiotic. The active ingredient, MacroBID is a UTI treatment, similar to Trimethoprim. Simply complete the short 3-day course of these Nitrofurantoin antibiotics and your infection should be completely resolved.
Nitrofurantoin 100mg Tablets
Buy Nitrofurantoin Online
Nitrofurantoin 100mg Tablets
Nitrofurantoin Macrobid 100mg is available to be purchased on the My Pharmacy UK website. The packet contains six capsules and is a short three day course, helping resolve your infection in a timely manner. Only one option is available at a price of £18.99.
What is Nitrofurantoin?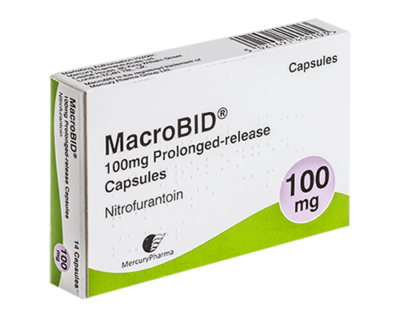 Nitrofurantoin or Macrobid is a prescription medicine which is used to treat and prevent infections of the bladder (cystitis), kidney and other parts of the urinary tract (UTIs).
When Nitrofurantoin is taken, the body filters it out of your blood and into your urine. This is especially helpful if you have a urinary tract infection because it centralizes around the site of infection. However, this means that Nitrofurantoin won't do anything for other types of infection.
Nitrofurantoin or Macrobid is available on prescription and either comes as capsules, tablets or a liquid that is consumed.
There are three types of Nitrofurantoin available –
Furadantin, microcrystalline form
Macrodantin, macrocrystalline
Macrobid, a continued release of macrocrystalline that is taken twice a day
Bladder Infection Antibiotics Nitrofurantoin
The antibiotic Nitrofurantoin isn't the only way to treat a bladder infection. A number of assessments have concluded that 25-42 percent of simple urinary tract infections can clear on their own. A range of home remedies can help speed up recovery.
Still, complicated bladder infections require medical assessment and treatment. These include symptoms and factors such as a swollen prostate or the slowing of urine. Other conditions such as illnesses that affect the immune system; HIV, lupus, cardiac disease can also play a factor.
Several at home remedies can be used to help reduce and treat the infection, here are a few –
Staying hydrated, this helps the body remove the waste and dilutes the urine.
Urinate when the need arises, don't hold it in. This reduces the amount of time bacteria is exposed to cells in the urinary tract.
Probiotics can help keep the urinary tract free from bad bacteria. A specific group called lactobacilli
Nitrofurantoin For Kidney Infection
Nitrofurantoin medicine can be used to treat a kidney infection. Usually Nitrofurantoin tablets/capsules are prescribed that last between seven and 14 days. Generally you'll start to feel better just a short while after the treatment has been started and the kidney infection should be completely gone by the end of week two.
If there are no signs of improvement 24 hours after the Nitrofurantoin medicine has been started, contact your doctor. This is not a condition we treat and should be treat by your own gp.
Nitrofurantoin For UTI
Nitrofurantoin tablets can be used to treat a UTI. Usually the antibiotic Nitrofurantoin for UTI is prescribed. Normally, you'll start to feel better just a short while after the treatment has been started three days in adults and two days in children. Even if you start to feel you have recovered, it's important to complete the whole course of antibiotic Nitrofurantoin. Although in some peoples cases they may have a severe UTI and will probably be referred to hospital where more tests and treatment can be administered.
Sometimes the UTI can come back after the treatment has been finished, therefore your doctor may prescribe a longer course.
Lastly, if the UTI keeps reoccurring and you need regular treatment, your doctor may give you a repeat prescription.
How to take Nitrofurantoin Macro
Ensure that you have checked with your doctor or pharmacist on How to take Nitrofurantoin Macro if you're not sure on how to take Nitrofurantoin. Take it as prescribed, per instructions from your doctor.
The current recommended dose for acute uncomplicated UTI in adults
A 100mg modified release capsule twice a day for 3 days.
This treatment should be taken at meal times with either food or milk.
Further information can be found here, from the patient information leaflet.
Buy Nitrofurantoin Online
My Pharmacy is the Best Place to Buy Nitrofurantoin in the UK in 2019. To buy Nitrofurantoin online in the UK you are required to have a prescription, which you can acquire with our free online consultation service.
Through My Pharmacy you can Buy Nitrofurantoin online with UK Next Day Delivery. Each treatment is sent out in secure and discreet packaging ensuring that you get your medicine on time and intact.
Get a Nitrofurantoin Prescription Online
In order to Buy Nitrofurantoin UK Online in the UK you need to get an Online Prescription. You can Get Nitrofurantoin Prescription Online from My Pharmacy with our Free Online Consultation. It takes roughly five minutes to complete and once approved by our Licensed Online Pharmacist your treatment will be shipped out via Next Day Delivery (if selected) in a secure and discreet package, ensuring your medicine arrives safe and on time.
Nitrofurantoin or Macrobid
Nitrofurantoin and Macrobid are antibiotics used to treat UTIs and bladder infections.
Macrobid is a modified release of nitrofurantoin; therefore it's released slower than nitrofurantoin would be.
Nitrofurantoin (monohydrate macrocrystals) is taken twice a day, whereas Macrodantin is typically taken four times a day.
Nitrofurantoin Alternatives
Nitrofurantoin has many alternative brand names, these include –
Aratoin
Macrobid
Macrodantin
Furadantin
Here are some other alternative treatments for Cystitis –