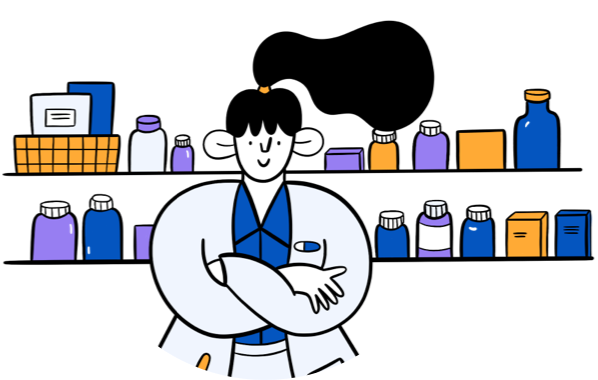 Medicine: Naproxen
Naproxen tablets help provide pain relief for conditions such as rheumatoid arthritis, osteoarthritis, bursitis, tendinitis, period pain, back pain, shoulder pain, knee pain, and more.
Naproxen Pain Relief Tablets
What Is Naproxen Used For?
When To Take Naproxen
Buy Naproxen Online
Naproxen Pain Relief Tablets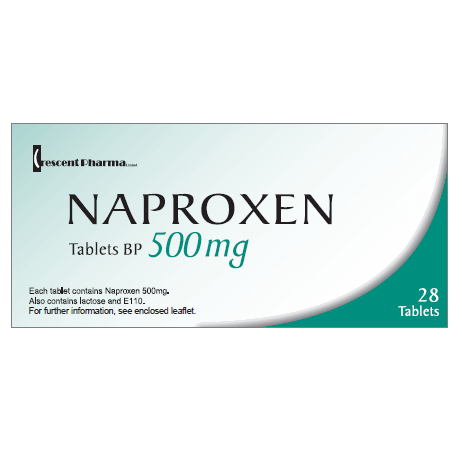 Naproxen 250mg & 500mg is a 'Non Steroidal Anti Inflammatory Drug' or NSAID. Inflamed and painful joints and muscles can be debilitating to live with, making it difficult to move around in your daily tasks. As a non-steroidal anti-inflammatory drug, Naproxen works by decreasing the hormones that trigger pain and inflammation in the body. This makes Naproxen in the UK the ideal treatment for pain relief for conditions such as rheumatoid arthritis, osteoarthritis, bursitis, tendinitis, period pain, back pain, shoulder pain, knee pain, and more.
Naproxen Tablets can relieve pain, swelling, redness and heat (inflammation) and is used to treat adults for:
Problems with your muscles, joints and tendons, like strains, gout, ankylosing spondylitis (pain and stiffness in the neck and back), dental pain or arthritis.
• Women, while having period pain.
The drug works by halting our limiting the body's natural production of substances and chemicals that lead to inflammation (prostaglandins).  These substances help tell the body that there is something wrong and the individual feels these signals as body pains.
Enteric Coated tablets reduce the irritation to the stomach and reduce the occurrence of side effects.
Naproxen is considered one of the best pain relief online for period pain.
You can buy Naproxen UK via My Pharmacy by filling out the above free consultation form.
Naproxen 500mg or Naproxen 250mg
Recommended dose is: Your doctor should prescribe as low a dose as possible. This will reduce any side effects you may experience.
Adults:
• Rheumatoid arthritis, osteoarthritis and ankylosing spondylitis 500mg-1g a day in two doses at twelve hour intervals. If 1g is needed this can be given as two 500mg doses or as a single dose.
• Attack of gout Initially 750mg as a single dose then 250mg every 8 hours until the attack has passed.
• Muscle, bone disorders and painful periods Initially 500mg as a single dose then 250mg every 6-8 hours as necessary. Up to a maximum of 1250mg a day may be given after the first day.
The dosage of Naproxen 250mg or Naproxen 500mg depends on what the person is using it for. It is generally agreed upon to use the lowest effective dose for the shortest possible duration. This helps prevent/reduce the chance of any side effects occurring.
Many different illnesses require differing doses. Illnesses such as Osteoarthritis, rheumatoid arthritis and ankylosing spondylitis require a dose of 220mg to 550mg every 12 hours. Others require differing doses and variations in how often they should be took.
Want the best Naproxen tablets online? Simply fill out the above consultation form, free of charge and proceed to checkout.
What Is Naproxen Used For?
We are often asked "What is Naproxen used for?"
Naproxen belongs to a group of medicines called NSAIDs (non-steroidal anti-inflammatory drugs).
To help with inflammation and healing, the body release chemicals known as Prostaglandins. When these chemicals are released, as well as the benefits, they also cause some negative side effects such as pain and fever.
These Prostaglandins are produced by an enzyme called cyclooxygenase (COX). Naproxen and other NSAIDs work to reduce the amount of COX-1 and COX-2 that are produced and as a consequence any ongoing inflammation, pain or fever is reduced.
Whilst the COX-2 enzyme is the one that creates prostaglandins that cause pain and fever, the COX-1 enzyme helps protect the stomach lining from any damaging effects of acid. This is why when sometimes taking NSAIDs or Naproxen, your stomach can produce ulcers and promote bleeding.
Naproxen 250mg and Naproxen 500mg is typically used pain relief. It helps reduce inflammation and pain in a person's joints and muscles.
This should answer the question of what is Naproxen used for.
Naproxen for Headache
Naproxen for headache is a slightly controversial topic. Studies have shown that Naproxen is not as good as some other medicines such as ibuprofen or sumitriptan in treating a headache or migraine.
Naproxen for headaches is possible to treat and some people find relief using it. The dose can be from 550mg of Naproxen sodium every 12 hours and could increase to 825mg if it's needed. The daily dose of Naproxen should not exceed 1,375mg.
Other NSAIDs and treatments can be used to reduce the pain experienced from headaches and migraines. These may provide better relief and can be bought from MY Pharmacy UK.
Click here to see a full range of Migraine relief treatments.
Are Naproxen Anti Inflammatory
Are Naproxen anti inflammatory? Naproxen is a NSAID (Non-steroidal anti-inflammatory drug) and works by reducing the amount of hormones/chemicals that are responsible for causing inflammation and pain. So the answer to are naproxen anti inflammatory is, yes, they are anti-inflammatory.
There are a number of different NSAIDs available and each vary in their duration, potency and how strongly they inhibit COX-1/COX-2.
When To Take Naproxen
Naproxen and Alcohol
Before taking Naproxen and Alcohol together, you should ask your doctor. Naproxen and Alcohol can increase the risk and chance of stomach bleeding.
If Naproxen and alcohol is taken together and you suddenly notice any of the symptoms of stomach/intestinal bleeding, call your doctor immediately. These symptoms include black, tarry or bloody stool, or any coughing that brings up blood/vomit that appear like coffee grounds.
Do not stop taking or using the medication unless told to do so by your doctor.
Naproxen and Paracetamol
Taking Naproxen and Paracetamol together is fine. Naproxen and Paracetamol can be taken during different periods during the day. Naproxen is a 12 hour medicine, so taking some paracetamol in-between doses of Naproxen can help with any pain until the next dose of Naproxen should be taken.
Naproxen and Ibuprofen
Naproxen and Ibuprofen should not be taken together. They are both NSAIDs (Non-steroidal anti-inflammatory drugs) and should not be taken within 8-12 hours of one another. Naproxen and Ibuprofen both work the same way and have the same side effects.
Cocodamol and Naproxen
Cocodamol and Naproxen can both be taken together. Cocodamol is known as an opioid-type painkiller and others like it can be taken with Naproxen such as codeine, tramadol and morphine.
Cocodamol and Naproxen can be used together to further help relieve any pain you may experience during an illness such as arthritis.
Buy Naproxen Online
My Pharmacy is the Best Place to Buy Naproxen UK in 2019. To Buy Naproxen Tablets Online in the UK you are required to have a prescription, which you can acquire with our free online consultation service.
Through My Pharmacy you can Buy Naproxen 500mg UK Next Day Delivery. Each treatment is sent out in secure and discreet packaging ensuring that you get your medicine on time and intact.
Naproxen Over The Counter
Naproxen over the counter is not available.
A person can buy Naproxen 500mg online from My Pharmacy UK for period pain without a prescription. It is also available on prescription as buy Naproxen 500mg online tablets or as a liquid that is drunk.
Alternatives to Naproxen Tablets
Here are some alternatives to Naproxen Tablets. Buy Naproxen UK and other alternatives online via My Pharmacy UK. The best Naproxen tablets online are available here.