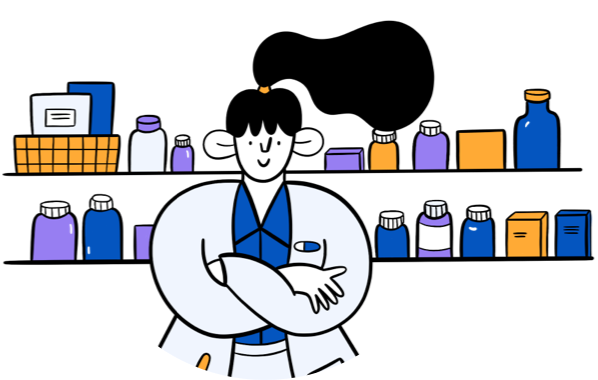 Medicine: Desogestrel
Desogestrel is a contraceptive pill used to prevent pregnancy, similar to the branded Cerazette this contraception is often called the mini-pill or progestogen-only pill. Pregnancy can result from sexual intercourse but there are many contraceptive methods available to prevent conception. Desogestrel 75 microgram is a progestogen-only female birth control pill which means that it only contains artificial progestogen ingredients and no oestrogen.
Desogestrel 75mcg Mini-Pill
Desogestrel Side Effects
Desogestrel Reviews
Buy Desogestrel Online
Desogestrel 75mcg Mini-Pill
We are often asked the question "What is Desogestrel?"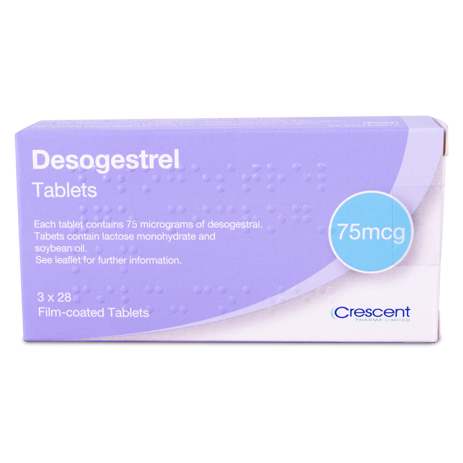 When looking for contraception consider the best Mini Pill Desogestrel Online. It's available to buy Desogestrel uk via My Pharmacy UK.
There are two types of hormone contraceptives. The combined pill, otherwise known as "The Pill", contains two types of female sex hormones called oestrogen and progestogen. Whilst the progestogen only pill, otherwise known as POP, doesn't contain oestrogen.
Desogestrel is a progestogen only pill (POP). Desogestrel contains a small amount of one type of female sex hormone, the progestogen called desogestrel.
The majority of POPs work by primarily preventing the sperm cells from entering the womb but don't always prevent the egg from ripening, which is the main way that combined pills work. In this case however, Desogestrel is different from the majority of POPs. In most cases the dose prevents the egg cell from ripening, resulting in a highly effective contraceptive.
Desogestrel 75 Micrograms
Desogestrel 75 Micrograms is the only available size currently. This can be bought via My Pharmacy UK by filling out the above consultation form.
Two options are available that include three months of Desogestrel 75 Micrograms or six months of Desogestrel 75 Micrograms. That is 84 tablets for three months and 160 tablets for six months.
Desogestrel Progestogen Only Pill
This pill is a Desogestrel Progestogen Only Pill. Here are some quick facts about the Desogestrel Progestogen Only Pill –
If it's taken reliably and correctly, it' is more than 99% effective at preventing pregnancy. This means less than 1 woman in 100 who uses Desogestrel Progestogen Only Pill as a contraceptive will get pregnant within a year.
If taken only typically, the effective chance is lowered to 92%.
The pill must be taken every day, with no breaks in-between packs.
It must be taken at the same time every day.
If you experience vomiting or diarrhoea when taking the pill it may not work correctly.
Certain other medicines, if taken together with the pill, may affect its effectiveness.
The pill on its own doesn't protect you from sexually transmitted infections, so the use of a condom with the pill is recommended.
For more information about Progestogen only pills, click here.
Desogestrel Ethinyl Estradiol
Desogestrel Ethinyl Estradiol is a combination birth control pill that contains female hormones that prevents the release of any eggs from an ovary. To do this Desogestrel Ethinyl Estradiol changes the way in which your cervical mucus and uterine lining work, by making it harder for any sperm to reach the uterus and harder for any fertilized eggs to attach to the uterus.
Desogestrel Ethinyl Estradiol has many brands available, some of listed below. It also has other uses which aren't listed within this body of text.
How does Desogestrel work?
This mini pill works to prevent pregnancy in three different ways
1) Desogestrel works mainly by stopping your ovaries from releasing an egg each month (ovulation).
2) Increases the thickness of the natural mucus at the neck of the womb, making it more difficult for sperm to cross from the vagina into the womb,
3) thinning of the womb lining (endometrium), making it more difficult for any successfully fertilised eggs to implant there.
How to take Desogestrel?
Each strip of Desogestrel contains 28 tablets – 4 weeks supply
Take your tablet each day at about the same time. Swallow the tablet whole, with water
Desogestrel is the same as other mini-pills that contain desogestrel 75 micrograms; these include Cerelle, Zelleta and Feanolla.
Desogestrel Side Effects
Like with all medicine, Desogestrel Side Effects can occur but these aren't experienced by everyone. If you experience any of these Desogestrel side effects, especially if any of them are getting progressively worse, immediately stop and speak to your doctor as soon as possible.
Below is a list of Desogestrel Side Effects experienced more, or less when people have taken the contraceptive pill Desogestrel.
Common
Mood changes, depressed mood
Decreased sexual drive
Headache
Nausea
Desogestrel Acne
Breast pain
Irregular or no periods/Desogestrel Pill Bleeding
Weight increase
Uncommon
Infection of the vagina
Difficulties in wearing contact lenses
Vomiting
Hair loss
Painful periods
Ovarian cysts
Tiredness
Rare
Skin conditions such as: rash, hives, painful blur/red skin lumps
Apart from these above Desogestrel side effects breast secretion or leakage may occur.
You should immediately see a doctor if you experience any of the follow symptoms, swollen tongue, face or pharynx, difficulty swallowing or hives and difficulty breathing.
Who shouldn't take Desogestrel?
Desogestrel can be taken by most women, including women who can't take oestrogen-containing contraceptives. However, it may not be suitable for women with:
Abnormal vaginal bleeding that hasn't been investigated by a doctor.
Breast cancer or a history of breast cancer. (But, your doctor may say you can take Cerazette if you have been free of cancer for five years and you don't want to use non-hormonal methods of contraception.)
Liver cancer or severe liver cirrhosis.
Serious arterial disease, eg that has caused a stroke, angina or heart attack.
Rare metabolic disorders called acute porphyrias.
Read the leaflet that comes with your pills, or talk to your doctor, nurse or pharmacist if you want any more information about the possible side effects of Cerazette. If you think you've experienced a side effect, did you know you can report this using the yellow card website?
Desogestrel Reviews
Once someone completes a purchase from My Pharmacy UK they will be asked to leave a review. My Pharmacy UK uses Trustpilot, which allows a user to grade and write a review about their online experience.
Here are some Desogestrel reviews from around the web –
"I have been on this pill for about a year with no major side effects except for a decrease in libido."
"I haven't had a problem with this BC! The first month taking it I had some more headaches than usual, but nothing too terrible. It lightened my periods (which used to be AWFUL) and prevents pregnancy. All in all, I recommend trying it!"
"Highly recommend, no weight gain or mood swings compared to other birth control pills I have taken. Everyone is different but I give this birth control an excellent review because of the experiences I have had with others."
Alternatives to Desogestrel Tablets
Alternatives to Desogestrel Tablets include the following –
Desogestrel or Cerazette
There is no difference between Desogestrel or Cerazette. They both have the same ingredients and should only differ in cost. However even though the difference between Desogestrel or Cerazette is just the name, some people report that one or the other has achieved better results for them.
Some people complain of migraines and once switched to the opposite pill they clear up.
Buy Desogestrel Online
My Pharmacy is the Best Place to Buy Desogestrel Pills UK in 2019. To Buy Mini Pill Desogestrel Online in the UK you are required to have a prescription, which you can acquire with our free online consultation service.
Through My Pharmacy you can Buy Desogestrel 75 Micrograms Online UK Next Day Delivery. Each treatment is sent out in secure and discreet packaging ensuring that you get your medicine on time and intact.
Desogestrel NHS
Desogestrel NHS is available on the NHS, you can order repeat Desogestrel NHS Prescriptions from My Pharmacy UK with next day delivery.
We offer both Royal Mail and DPD delivery services at checkout.